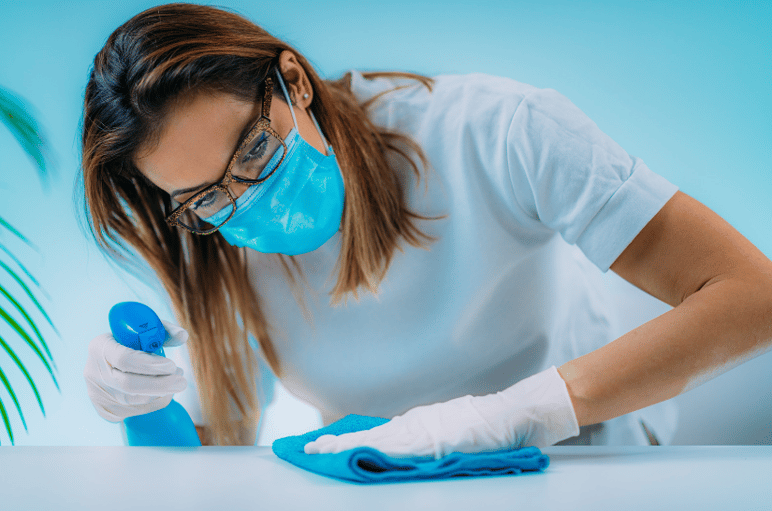 Influenza viruses are stubborn microorganisms, capable of surviving on plastic desks and chairs, and steel handrails and door handles for up to 48 hours, and as many as 12 hours on carpets, exercise books, and toilet rolls. This means that, in some extremely unlucky cases, a child could pick up flu on Monday morning from touching a surface that another child had sneezed on on Friday afternoon!

This persistence on surfaces makes controlling flu outbreaks challenging for most schools over the winter.
However, flu isn't a superbug, and the virus can be killed effectively with the right approach to cleaning and disinfecting. In this article, we look at how to clean and disinfect classroom and communal surfaces properly to kill the virus and help minimise the spread of flu.
1. Use The Right Mix Of Cleaning Products
When it comes to combating flu, it is important to use the right commercial cleaning products for the job, including both surface cleaning agents and disinfectants. Look at the characteristics and applications for each product. For example, bleach is a powerful disinfectant that can help stop influenza in its tracks. However, it is also corrosive and can damage plastic desk surfaces if used improperly, and can also cause skin irritation if not thoroughly rinsed off. As such, it is important to read the labels or online product descriptions of all cleaning products carefully and follow the instructions for use.
2. Clean Surfaces Regularly
Regular spot cleaning of all classrooms and communal spaces throughout the flu season is preferable to a single deep clean each term for controlling influenza. Surface cleaning should cover all door handles, light switches, desks, countertops, and other surfaces that are frequently touched. These surfaces should be cleaned with a disinfectant on at least a daily basis – and preferably twice daily, before and after the school day.
3. Disinfect Equipment And High-Touch Items
In addition to regular cleaning, it is also beneficial to thoroughly disinfect high-touch items, play equipment, and books at least once a week. High-touch items are those that are used by multiple pupils or staff throughout the day, and include tablets and touch screens, sign-in books, pens, keyboards, exercise books, coat pegs, and PE equipment.
4. Encourage Good Hygiene
Basic hygiene practices and education go a long way in reducing flu transmission in schools. Encourage pupils to wash their hands regularly with soap and water for at least 20 seconds between lessons, avoid touching their faces, and cover their mouths whenever they sneeze or cough. At peak flu season, your school may even benefit from a face mask policy in large communal areas, or during school assemblies.
Industrial-Strength School Cleaning Equipment From Power Hygiene – Sign Up For A Trade Account Today
Click here to sign up for a free trade account with Power Hygiene today, and get access to exclusive special offers, competitive wholesale prices, and free delivery or free click and collect on over 5000 stock commercial cleaning supplies. If you have any questions or would like to find out more, don't hesitate to call our customer service team on 0800 856 0460.
Image Source: Canva