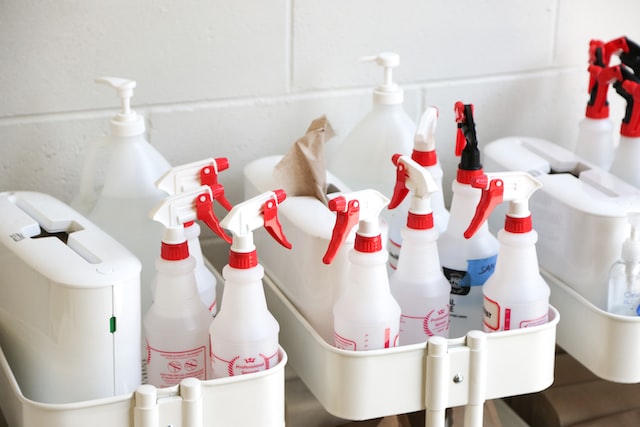 Keeping a school clean is essential. With a range of dangerous viruses and bacteria circulating over the winter, it's more important than ever to keep surfaces clean. Desks, tables, chairs, and handrails all come into near-constant contact with hands, so it's vital to keep them as sterile as possible. Plus, with floors, furniture, windows, canteen facilities and other equipment to wash, there's plenty of cleaning to be done.
It's imperative, therefore, to keep your cleaning supplies in good order to help keep your school hygienic and safe from infectious diseases. But cleaning products can be expensive. If you're cleaning thoroughly, you can easily get through a lot of products, and the costs quickly mount up. With every school's budget at the limit, it's vital to find savings where you can, but you don't want to skimp on hygiene. With efficiencies like bulk buying, you can keep up your stocks, maintain your school's cleanliness and stick within your financial limits. So, let's take a closer look at four reasons why wholesale purchases can save your school budget.
1) Save Money
Schools are quite used to having to work with restricted budgets. As pressures increase further and prices rise, budgets are only going to get tighter for the foreseeable future. For many consumers, bulk buying is not feasible. The number of units consumed doesn't justify it and, in any case, most consumers are not eligible for wholesale transactions. However, as a school, you are entitled to buy goods wholesale. Although there is a greater up-front cost, the per-unit cost is much lower. So bulk wholesale purchases can bring you significant savings over the medium to long term.
2) Don't Risk Supply Shortages
To maintain effective cleaning standards, you need to avoid running out of essential products. However, one thing the pandemic taught us is that consumer supply networks can fail during crises. The inability of just-in-time distribution systems to cope with panic buying led to retail shortages of many essentials. With international conditions at their most unpredictable for decades, it's worth maintaining your essential cleaning stocks in case there are empty shelves at the supermarket. Buying wholesale in bulk means you won't get caught out and can always keep your school as clean as it should be.
3) Keep Your Store Cupboards Stocked
Buying small quantities of cleaning products means you need to restock regularly to avoid shortages. This is not efficient; it demands time and effort and means you're always at risk of running out of supplies. Wholesale buying, by contrast, allows you to plan well ahead. You can keep your stocks up, avoid unnecessary worries about hygiene at your school and focus on other matters.
4) Streamline Re-Ordering
Best of all, you don't even need to lift a finger to buy wholesale cleaning supplies. With Power Hygiene you can set up a regular standing order and we'll make sure you always have the supplies you need in good time.
Next Steps
At Power Hygiene, we stock a huge range of detergents, equipment, and other cleaning materials available for bulk purchase. If you find you're running low, we can easily restore your supply levels, and we offer UK next day delivery on all items in stock. For more information and to sign up for a trade account, please contact us today.

Image Source: Unsplash