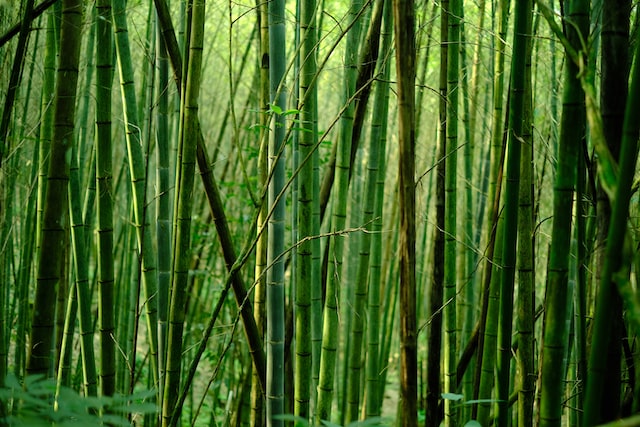 As the effects of the environmental crisis become increasingly obvious, many of us are wondering what we can do to cut our emissions and live more sustainably. Paper, traditionally, is made from wood. The loss of trees is a major problem for our planetary health and the processing involved in producing paper can be environmentally damaging in itself. However, we now have a fast-growing and sustainable alternative - bamboo. In this article, we look at how sustainable bamboo toilet paper can help to save the planet and serve the toilets of the future.

More Sustainable
When trees are cut to produce paper, a natural carbon sink is destroyed. Paper-producing trees are
slow growers and usually take around 40 years to reach maturity. That means we can't quickly compensate for their loss. By contrast, bamboo grows fast. It's actually a form of grass and can grow up to a meter a day. That means it's ready to harvest in just a year. What's more, the process is not just quicker, but it's also less land-intensive. The ground area needed to grow bamboo for paper is much less than that required for the trees required to produce the equivalent quantity.
Lower Carbon Emissions
Bamboo also absorbs a lot of CO2. In fact, each hectare of bamboo plantation can absorb between 100 and 400 tonnes of CO2 annually. That's about 35% more than trees, and bamboo also produces oxygen as it grows. Trees do this too, but they don't beat bamboo in the output stakes: bamboo emits 30% more O2. In addition, the bamboo plant is not killed after it is harvested. It continues to grow and can be harvested again after another year. So all in all, bamboo is a great choice for carbon emissions.
Just As Good
The great thing about bamboo is that being environmentally beneficial doesn't have to be weighed against the quality of the end product. Bamboo paper products for personal hygiene work as well as their wood-pulp equivalents. They are just as absorbent, strong, and soft, so if it's a battle between bamboo toilet paper vs regular paper, bamboo wins every time. There's no need to compromise on wipe quality to bring peace of mind about the environment.
What We Are Doing
At Power Hygiene, we realise the value of eco-friendly toilet paper in helping the planet. And we'd like to see the forests remain standing as much as our customers. That's why we offer a range of environmentally sustainable products including bamboo and sugarcane-based papers. To discover more about how we can all do our bit to help the planet, please look at our range of sustainable toilet paper products.

Image Source: Unsplash