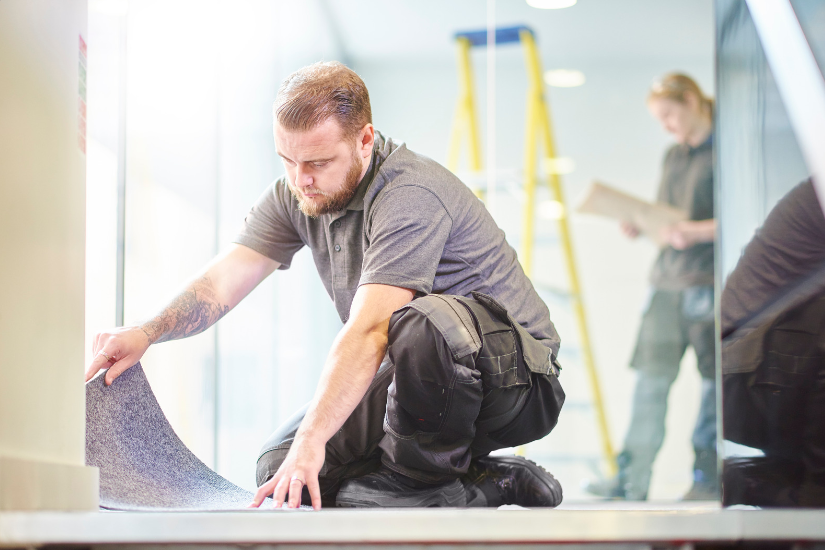 Cleaning and vacuuming can only go so far to sustaining the appearance of a well-used office carpet. There comes a time when any carpet needs to be replaced, especially in high traffic areas – but how do you know the best time to make the change, and how often should you consider swapping out your carpets?

Carpets In Offices
Carpets have always been an essential aspect of office environments, adding to the aesthetic appeal of buildings and providing an additional layer of comfort for workers. Commercial carpets are usually more functional and utilitarian than the carpets we enjoy at home, and they are designed specifically to be easy to clean and withstand wear and tear.
However, furniture, shoes, spillages, and constant foot traffic will wear down even the toughest office carpet over time, leaving dirt and grime embedded deep inside, with ingrained stains and bare and discoloured patches. At this point, your office carpet is more a liability than an asset, making a bad impression on employees, visitors, and customers alike.
Thus, it becomes necessary to change carpets before they start looking overly shabby and deteriorated. How often depends on the intensity of use and the type of carpet. Throughout this lifespan, however, regular vacuuming and cleaning with professional carpet cleaning products will sustain the quality and appearance of any office carpet, avoiding the early signs of wear and tear.
Vacuuming And Its Limitations
Vacuuming office carpets every day or even twice daily helps to remove surface dirt and dust, but it has its limitations. Over time, carpet fibres become matted down and compressed, trapping dirt, dander, and other allergens, leading to poor indoor air quality. Despite having powerful commercial vacuums, this build-up of debris becomes difficult to remove, requiring a more thorough cleaning to maintain the carpet's appearance. While professional steam cleaning and premium products can give an instant lift to a dirty carpet, it's not a permanent solution for wear and tear.
Factors To Consider
The frequency of when an office carpet should be changed depends on numerous factors, including the amount of foot traffic, the age of the carpet, the quality of fibres used in making it, and how often it is professionally cleaned.
A high-end office carpet might last 10 to 15 years, while a lower quality product in a high traffic area may need to be replaced every 3 to 5 years. Business owners should be aware of the type of carpet they have and whether it is conducive to their industry. We recommend consulting with your vendor and establishing a replacement schedule that aligns with the needs of your business.
Appearance Of New VS Old Carpets
A new carpet has a unique appeal, a fresh scent, and vibrant colours that give the office a professional look. It sends a message that the company cares about its image and the health of its employees. In contrast, an old carpet is stained, worn down, and gives the impression that the office is not well-maintained or looked after, which reflects poorly on your brand. An older carpet can also become a breeding ground for bacteria, allergens, and mould that can pose health hazards to employees and visitors.
Benefits Of Replacing Old Carpets
Newer carpets offer numerous benefits beyond their improved appearance. A newer and cleaner carpet can improve air quality, provide noise insulation, and create a safer environment for employees, while also being cheaper and less time-consuming to keep clean. Furthermore, new carpets can provide a boost in morale, increasing productivity and making employees feel recognised and valued by showing them that their employer cares about their working environment. It's also a chance to switch up designs, textures, and colours to inject a more modern feel into the workspace, instantly making it feel more contemporary and forward-looking.
Find Out More
Changing office carpets at regular intervals is crucial to maintain a professional work environment and an excellent first impression for clients and visitors. However, our range of floor cleaning equipment and commercial-grade cleaning products can help extend the life of your office carpet, sustaining its appearance and hygiene throughout its working life.
Please download a free copy of our latest Wholesale Cleaning Supplies Catalogue to find out more, and register for a trade account by clicking here.

Image Source: Canva