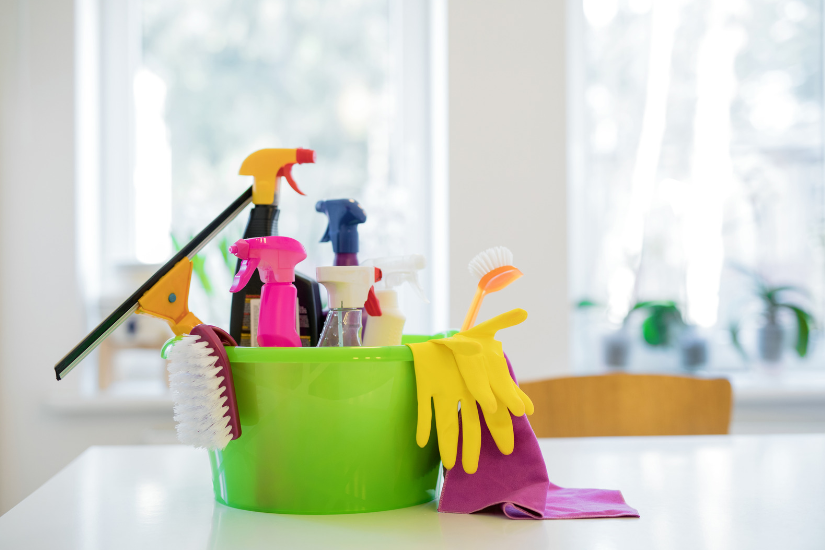 If you're responsible for purchasing cleaning supplies for your office, you may be wondering if fragranced cleaning supplies are a good or bad idea. On the one hand, they can make the office smell fresh and clean, but on the other, they may contain harmful chemicals that can impact the health of your employees – and how good are all those VOCs for the environment? So in this article, we'll look at the pros and cons of fragranced cleaning supplies, including cost, sustainability, VOCs, and the potential impact on health and the environment. By the end, you'll hopefully have a better idea of whether or not to include them in your cleaning supplies inventory next time you reorder.

Pros
Pleasant fragrance - One of the biggest advantages of using fragranced cleaning supplies is the pleasing aroma they leave behind. Some smell better than others, but ultimately, this is why we buy fragranced cleaning supplies. The fragrance helps mask any unpleasant odours and creates a pleasant ambience in the office. A nice smelling cleaning product simply makes a place feel fresher, cleaner, and more inviting for people to use.

Cost-effective - Fragranced cleaning supplies can sometimes be cheaper than non-fragranced ones, because they usually contain synthetic ingredients that are cost-effective to produce in bulk. You can buy naturally scented products, but these are always more expensive than their synthetic alternatives.

Mental well-being - Pleasant smells have a calming effect on people, facilitating better collaboration and interpersonal relationships in the workplace. It also makes a better impression on visitors and customers to have your workspace smelling of lavender or lemon or jasmine, rather than coffee, dust, and old shoes.
Cons
Volatile Organic Compounds (VOCs) - The synthetic and solvent-based fragrances in cleaning products can emit alarmingly large volumes of VOCs, which can cause respiratory irritation, headaches, dizziness, and other health problems in some people. VOCs in cleaning products can contribute to heightened indoor air pollution, especially during the winter when windows are generally left closed. VOCs can also cause outdoor air pollution, particularly during the summer months. And let's not forget that the manufacturing process for many fragranced cleaning supplies also releases VOCs and potential toxins into the environment.

Sustainability - Fragranced cleaning supplies are overwhelmingly made using synthetic ingredients, which are not always eco-friendly. Using these products can harm the environment in some circumstances, contributing to deforestation and climate change, and release pollutants into the waterways.

Health Risks - In addition to causing respiratory irritation, some fragranced cleaning supplies have also been linked to the development of asthma, which can have life-long implications for individuals who are prone to this health condition.
Making The Right Choice
After reviewing both the pros and cons of using fragranced cleaning products, it's evident that the cons outweigh the benefits in many cases. The risks to health and the environment are too high, and the cost savings are not worth the potential harm.
However, it's essential to note that not all fragranced cleaning supplies are equally 'bad' – many manufacturers are now creating eco-friendly fragranced products that lack the harmful ingredients and pollutants used in traditional supplies. Equally, not all unscented products are automatically more sustainable and safer than their fragranced alternatives. Some products contain just as many solvents, VOCs, and chemicals, even without the fragrance.
Before purchasing any cleaning supplies, we recommend checking with your vendor carefully to determine which ingredients are used in each product. A good supplier will be fully transparent about the ingredients used and the sustainability and health profiles of their products, allowing you to make an informed choice.
What Next?
Power Hygiene are one of the UK's leading suppliers of professional cleaning supplies, with free click and collect from our warehouse in Rayleigh, Essex, free delivery for all trade customers, and over 5000 essential items kept in stock. To find out more, please call one of our experienced team on 0800 856 0460, or click here to register for a trade account.

Image Source: Canva